Radio Okapi | Published on July 19, 2013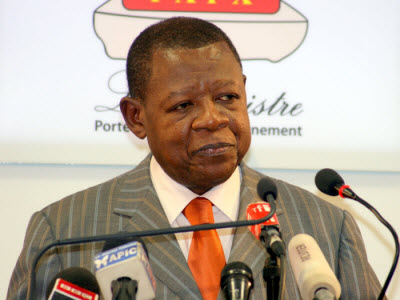 Government spokesman Lambert Mende Omalanga (File photo) |
Enlarge
The significant progress made recently by the Congolese army against the M23 rebels in eastern Congo is due to the support of the government, Media Minister and government spokesman Lambert Mende said on Friday during a press conference.
This support has helped the Congolese Armed Forces, known by their French acronym FARDC, take back more than a dozen positions formerly occupied by "enemy forces," Mr. Mende said.
"The government has met their expectations in equipment, salaries, food, health, and evacuation of those wounded for treatment," Mr. Mende said.
He also praised the support of the UN peacekeeping mission in DR Congo (MONUSCO) in the success of the FARDC.
He said that the M23 rebels supported by Rwanda were in disarray in North Kivu province.
The Congolese government announced on Monday that more than 120 M23 rebels had been killed since the resumption of hostilities on Sunday in Mutaho, located 10 kilometers from Goma, the provincial capital, between the FARDC and the M23.
No other figures have been provided since, and no confirmation could be obtained from the M23 or from independent sources.
However, Mr. Mende remains cautious and called on the military to continue to fight to win the war.
"Winning a battle does not mean winning the war. The war will be won the day the entire territories of Rutshuru and Nyiragongo will have no more elements of negative forces left, and no elements of their Rwandan partners in arms," he said.
Mr. Mende also condemned the excesses of some FARDC soldiers who desecrated the corpses of M23 rebels killed in battle.
"Investigations were ordered by the head of state. They quickly led to the arrest of an officer so that he may be brought to justice." He announced to this effect the arrest of Lieutenant Solomo Bangala of the 391st battalion who was accused of desecrating the corpses of M23 rebels.
On Wednesday, the Secretary General of the UN, Ban Ki-moon urged the DRC to prosecute Congolese soldiers accused of desecrating the corpses of M23 rebels and mistreating those taken prisoner.
Mr. Mende also announced the start of the second wave of the voluntary recruitment of  young Congolese into the army.

Source: Radio Okapi