MONUC | Published on December 31, 2007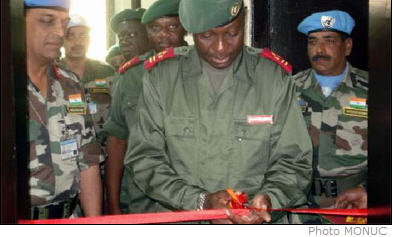 A new military operations centre for the FARDC (DRC Armed Forces) 8th military region was inaugurated in Goma in North Kivu province on 29 December 2007. The centre, which was financed by the FARDC and built by MONUC's Blue Helmets, is another testament to the support that MONUC brings to the FARDC in the restoration of peace in eastern DRC.

The new FARDC military operating centre was inaugurated in the presence of FARDC Chief of staff General Kayembe, FARDC Lieutenant General Olenga, 8th military region commander General Mayala and MONUC North Kivu brigade commander General Narayan.

In one month, MONUC's Blue Helmets completed the renovation of a simple room into a functional air conditioned operations centre equipped with updated maps on sliding boards, a computer and video projection system and a VIP seating arrangement with conference chairs and table.

The new FARDC military operations centre in Goma is 'the most modern in the DRC,' according to General Mayala.

General Olenga thanked MONUC for their assistance and exhorted his men to take care of this valuable asset.

MONUC North Kivu commander General Narayan concluded the ceremony by reminding the FARDC officers present that MONUC's Blue Helmets were in North Kivu to assist the FARDC to restore peace and to establish state authority in this part of the country.

Previously on Friday 28 December 2007, MONUC Goma's Blue Helmets gave a new stock of 4,000 combat ration kits for FARDC troops on the ground, bringing to 24,000 the total number of kits donated by the blue helmets to the FARDC over the last two months.

MONUC's Blue Helmets, according to their mandate, bring an important support to the Congolese army over the entire DRC territory, within the framework of operations aimed at assisting the DRC government to re-establish state authority.

Part of the Blue Helmets' mandate involves the training, up to September 2009, of 11 FARDC integrated brigades based in eastern DRC - in Rwampara in Ituri, Luberizi in South Kivu, and Nyaleke in North Kivu.