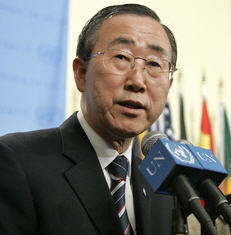 Member States have so far failed to provide nearly enough troops to reinforce the United Nations mission in the Democratic Republic of the Congo (DRC) since the Security Council called in November for 3,000 additional peacekeepers in the face of mounting violence in the east of the vast country.
Voicing regret at the results in a letter to the Council's President, Secretary-General Ban Ki-moon renewed his appeal to troop- and police-contributing countries to come forward with essential offers.
He noted that of the 49 troop-contributing countries and 12 potential troop contributors approached, until now only Bangladesh has come forward with one infantry battalion, one engineer company and one formed police unit.
Belgium has also offered a C-130 aircraft, while five other Member States will send the required intelligence experts for the UN mission, known by its French acronym MONUC. There are also several indications of offers by other Member States, Mr. Ban said.
Ambassador Yukio Takasu of Japan, which holds the Council's presidency for February, noted that the reinforcement of additional UN forces has not been satisfactory. ?The Council needs to help the Secretariat to expedite the full deployment that has been authorized,? he told a news conference in New York.
The extra 2,785 troops and 300 police officers that the Council requested are to buttress the more than 17,000 uniformed personnel already in the DRC, the largest UN force currently deployed worldwide but one faced with the task of quelling unrest and protecting civilians in one of Africa's largest countries.
Eastern DRC has been the scene of fierce fighting in recent months between the Congolese army and various rebel militia groups that has displaced some 250,000 civilians since August, on top of 800,000 uprooted in earlier outbreaks of violence.
The UN Children's Fund (UNICEF) reported today that it had helped secure the release of 85 children aged between 7 and 17, including five girls, who had been recruited by the Mayi Mayi ethnic militias in the east. The agency is now attempting to find their families, spokesperson Veronique Taveau told a news briefing in Geneva.
It is estimated that there were still some 2,000 child soldiers with armed militias in North Kivu province, she said.