Congo News Agency | Published on December 09, 2011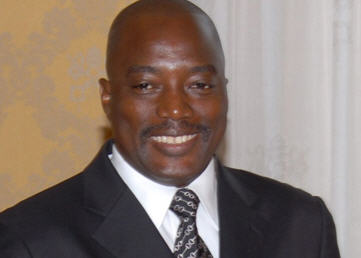 President Joseph Kabila has been declared the winner of the November 28 presidential election in the Democratic Republic of Congo.
The Independent National Electoral Commission announced Friday that Mr. Kabila won re-election with 48,95% of the votes.
Etienne Tshisekedi was credited with 32,33%, Vital Kamerhe with 7,74%, Leon Kengo wa Dondo with 4,95%, Mbusa Nyamwisi with 1,72%, Nzanga Mobutu with 1,75%, with the remaining 5 candidates garnering less than 1% each.
The INEC said that 58,81% of the 32,024,640 registered voters had cast ballots in the presidential election.
The results, expected on Tuesday, were delayed until Friday. The INEC said it needed more time to cross-check all the data and to ensure more transparency.
The INEC also published the results compiled from polling stations on voting day. The electoral commission had said it will published the more detailed data so that the candidates' observers  and other national and international observers can verify that the count obtained on voting day was the same being published in the final results. On voting day, accredited observers had to sign off on the summary of results at a polling station after the votes were counted.
Announcing the results, Pastor Daniel Ngoy Mulunda, the chairman of the INEC, asked candidates to remember that in each election there are winners and losers.
Reacting to the announcement, Mr. Tshisekedi told Radio Okapi that although he rejected the results, he was calling on his supporters to remain calm and wait for his instructions.
Authorities have increased police presence in Kinshasa and other opposition strongholds across DR Congo since Tuesday, the day the results of the presidential election were first expected before being delayed until Friday.
The November 28 presidential and parliamentary elections were the second democratically held elections in DR Congo. Mr. Kabila, 40, won the first free and fair elections in the country in 2006 with 58% of the votes. He first came to power in 2001 after the death of his father, former president Laurent Desire Kabila.
The Supreme Court will proclaim the official winner on Dec. 17, after reviewing all appeals resulting from the election. The next president is set to be sworn in on December 20.
Read full results on the INEC's website