Congo News Agency | Published on December 18, 2011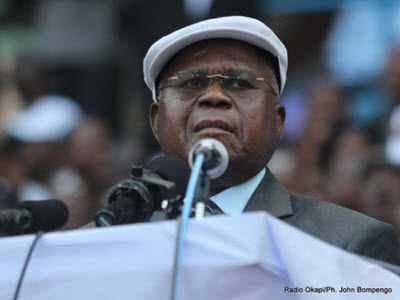 Etienne Tshisekedi at Stade des Martyrs on Aug. 9, 2011 |
Enlarge
Etienne Tshisekedi declared himself president-elect of the Democratic Republic of Congo on Sunday and called for the armed forces and the police to arrest President Joseph Kabila.
"I consider myself from this day on the president elected by the Congolese people" Mr. Tshisekedi said.
Mr. Tshisekedi asked his followers to "stay calm and serene to maintain a good business climate for foreign investments".
"I ask you to be calm and serene because a winner doesn't get agitated, does not worry, to the contrary, he remains calm.  As for those who are causing our troubles, starting with Mr. Kabila, I ask all of you to look for him, wherever he is in the country, and bring him to me alive. Whoever brings me Kabila here, handcuffed, will receive a very big prize. Also, Mr. Kabila's government is dismissed from this day on. All officers, lieutenants, caporals and soldiers of the Congolese armed forces, I order you to obey to the legitimate authority. The same goes for the national and sovereign police force", Mr. Tshisekedi said.
DR Congo has remained calm since the Independent National Electoral Commission proclaimed Mr. Kabila the winner of the Nov. 28 presidential election on Dec. 9. After the announcement, Mr. Tshisekedi asked his supporters to remain calm and await his instructions. Police presence had been reduced around Kinshasa.
The statement comes two days after the Supreme Court confirmed Mr. Kabila as the winner of the Nov. 28 presidential election on Friday. President Kabila is set to be sworn in on Tuesday, Dec. 20.
Mr. Tshisekedi declared himself president even before the elections and has repeated the claim since the INEC published the results.
The call for soldiers and the police to rebel and arrest President Kabila may aggravate tensions between the authorities, Mr. Tshisekedi, and his supporters. His party, the Union for Democracy and Social Progress, has called for protests on Monday and Tuesday.
Mr. Tshisekedi, who turned 79 on Dec. 14, said on Sunday he "will take the oath of office next Friday" at Stade des Martyrs in Kinshasa.