UN News | Published on July 17, 2009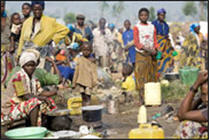 United Nations agencies and their partners will be able to provide urgent humanitarian relief to some 250,000 people in the strife-torn eastern region of the Democratic Republic of the Congo (DRC) thanks to $7 million in emergency funding.
"This allocation will help UN agencies and their partners to rush emergency aid to people who need it desperately," Humanitarian Coordinator Ross Mountain said today in the Congolese capital, Kinshasa.
Mr. Mountain said the surge in violence by the rebel Democratic Forces for the Liberation of Rwanda (FDLR) and rogue elements of the Congolese army (FARDC) has uprooted thousands of families, many of which have already been displaced several times.
There are currently an estimated 1.6 million internally displaced persons (IDPs) in the two Kivu provinces, according to the UN Office for the Coordination of Humanitarian Affairs (OCHA).
The grant from the UN Central Emergency Response Fund (CERF) is in response to the urgent appeal for $38 million launched last month by the world body and its partners to help those in need of assistance in eastern DRC.
Some $4 million will be used by the UN Children's Fund (UNICEF) to provide basic relief and non-food items, and another $2.5 million for potable water. In addition, the World Health Organization (WHO) will receive $500,000 to make basic health care available for the displaced.
In May CERF allocated over $12 million to help nearly 200,000 people in the region cope with the lingering consequences of a series of attacks by the Ugandan rebel group known as the Lord's Resistance Army (LRA).
The Fund, administered by OCHA, was created in 2006 to allow the UN quick access to its accounts, potentially saving thousands of lives facing sudden crises. It has so far disbursed more than $1 billion to emergency programmes in 67 countries, with the DRC receiving more than any other nation – some $144.5 million over the last three years.