Radio Okapi | Published on November 28, 2011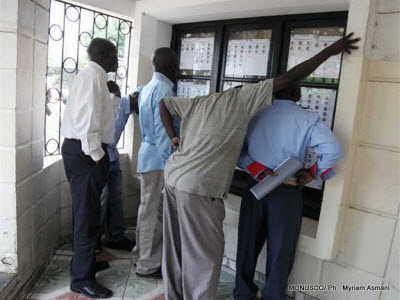 People look for their names on a voters' list at a polling center in Goma. (Photo: MONUSCO/ Ph. Myriam Asmani) |
Enlarge
The first polling stations have opened in the capital Kinshasa and all over the Democratic Republic of Congo for the presidential and parliamentary elections.
Nearly 32 million Congolese will elect their president and 500 national Members of Parliament.
In Kinshasa, the voting center located on Twana Street opened at 6 am. The voting process began about a half hour later, witnessed a Radio Okapi reporter.
The center has fourteen polling stations. No rushing has been observed yet. People are still looking for their names on the voters' lists displayed at the center.
Observers sent by the presidential and parliamentary candidates are witnessing the votes. Other observers have not yet arrived, but everything is going peacefully.
The head of the center has assured that voters whose names are not on the lists can vote at the centers where they registered.

On the web: Congo News Agency | Radio Okapi article