MONUC | Published on August 27, 2009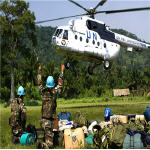 An advanced team of 10 officers and 178 troops from the Bangladeshi army arrived in Bunia, district of Ituri yesterday Wednesday 26 August ahead of a new contingent which will be part of the 3000 additional troops authorized by the Security Council in December 2009 to deploy in DRC.
 The Bangladeshi contingent will take over from the Pakistani troops stationed in Kpandroma which is tasked to redeploy in South Kivu.
Altogether, Bangladesh will contribute an infantry battalion of 850 troops, an engineering company of 175 elements and a Formed Police Unit of 200 members.
«The arrival of the additional forces will help MONUC to better respond to the ever changing situation on the ground, to better protect civilians, to assist the FARDC, or to stabilize the areas that have been regained from armed groups. The pace of Blue Helmets deployment will accelerate, » said the Special Representative of the United Nations Secretary-General for the DRC, Alan Doss.
The following countries have to date announced their intention to contribute troops and equipment to give MONUC the additional resources it is seeking: Bangladesh, Belgium, Egypt, Jordan, Tanzania and Uruguay. So far MONUC has received from Belgium one out of the two C-130 aircrafts it has requested. The UN is looking for the contribution of 16 military helicopters needed by MONUC to ensure its mobility and provide reactivity of its Force.