VOA News | Published on September 24, 2009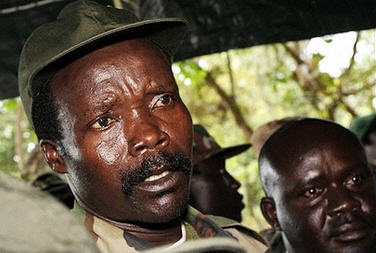 Elusive Ugandan rebel leader Joseph Kony has renewed contact with the Ugandan government, seeking an immediate ceasefire and resumption of peace talks. Kony's militants are terrorizing the local populations across a number of central African nations.
Speaking as a representative of Joseph Kony, David Matsanga told VOA the Lord's Resistance Army leader wants talks re-opened with the Ugandan government. Matsanga says he flew to meet Kony face-to-face about three weeks ago.
He says he has since given documents to Ruhakana Rugunda, Uganda's envoy to the United Nations, that list Kony's terms for renewed talks. Matsanga says he and Rugunda have discussed the proposal for the past two weeks, and Ugandan President Yoweri Museveni has been briefed on the situation.
The LRA representative said the documents included a call for an immediate ceasefire.
Kony had previously agreed to a peace deal as part of mediated negotiations in Juba, Sudan, during which Matsanga served for a period of time as chief rebel negotiator. But Kony has repeatedly failed to show up to sign the final agreement.
Matsanga said the Juba peace deal is "dead" in the eyes of Kony, who is demanding the creation of new talks with fresh mediation. "He wants a new arrangement where a direct memorandum of understanding between him and the government of Uganda is hammered out, because the Juba framework will not work. One party does not agree that the chief mediator is neutral," he said.
The Juba talks chief mediator was South Sudanese Vice President Riek Machar
According to Matsanga, Kony wants former Nigerian president Olusegun Obasanjo as chief mediator and former Tanzanian president Benjamin Mkapa to take part in the peace process as well. "I have been in close contact with General Obasanjo, and I have been to Tanzania to see [former] president Mkapa. I have briefed them on what is supposed to be done. And we are waiting for the response from the government of Uganda to say, 'Okay, this is the way forward on the memorandum,'" he said.
VOA also learned Kony's peace demands include direct guarantees from the Ugandan government to protect him from an arrest warrant issued against him by the International Criminal Court at The Hague. The ICC chief prosecutor has charged Kony with 33 counts of war crimes and crimes against humanity.
Kony's fear of being arrested is often cited as the reason for his refusal to sign the Juba peace agreement.
Kony has named his LRA deputy in command, who prefers to remain nameless, as his new head envoy for future peace talks.
The Lord's Resistance Army was once a northern Ugandan-based rebel group, but now conduct attacks in border areas of eastern Democratic Republic of Congo, southern Sudan, and southeastern Central African Republic. They are being chased by the Ugandan army and also clash with DRC, CAR, and South Sudan armed forces.
The LRA guerillas are known for their brutal acts of violence against local civilians that include human mutilations, church-house slaughters, and the kidnapping of women and children to replenish the rebel group's ranks.
Ambassador Rugunda has not responded to a VOA request for his comments.