Radio Okapi | Published on August 20, 2010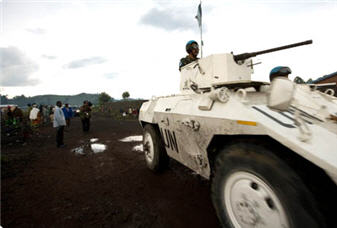 Two people suspected of involvement in an attack on a United Nations peacekeeping base in Kirumba, North Kivu, on Wednesday were arrested in Lubero on Thursday by the Congolese army.
An investigation is ongoing to find out the reasons for the attack, Major Sylvain Ekenge, spokesman for operation Amani Leo in North and South Kivu provinces, told Radio Okapi on Friday.
The alleged murderers will be brought to justice. "They have committed an abhorrent act. Rebel or not, if you commit a crime and you are arrested, you have to account for your actions," Major Ekenge said.
Regarding the identity of the assailants, Major Ekenge said that, according to their modus operandi, it is the Mai Mai. But, he said, the investigation will determine which Mai Mai rebel group they belong to.
However, Major Ekenge was cautious on the question of whether there was an alliance between the perpetrators of the attack and the rebel Democratic Forces for the Liberation of Rwanda (FDLR). "Only the investigation will determine if there was an alliance," he said.
Three peacekeepers from the Indian contingent of the UN Organization Stabilization Mission in the Congo (MONUSCO) were killed on Wednesday following a surprise attack by armed men against their base in Kirumba, in the territory of Lubero, some 190 km north of Goma.

On the web: Congo News Agency | Radio Okapi aritlce