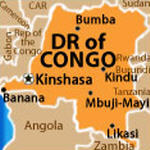 19 July 2006 - Condemning recent abuses in the Democratic Republic of the Congo (DRC), where demonstrators have faced opposition in violation of their right to freedom of expression, a United Nations official in the country today called on the authorities to respect its new Constitution.
Speaking to reporters, Fernando Castaņon, Director of the Human Rights Division of the UN Mission in the DRC (MONUC), cited the repression of public freedom during the election period, including in Goma where the Mayor asked the police to ensure that a march of the Movement du Peuple Congolaise (MPC) did not take place.
?Such actions which prevent a march from taking place undermine the right to self expression, and are against the law,? Mr. Castaņon said.
He said public demonstrations are not subject by law to preliminary authorization on the part of the local authorities. ?The date of the march or its proposed route can only be changed or modified by mutual agreement with the organizers, and only if reasons of safety or law and order require it,? he stressed.
MONUC's Human Rights Division also denounced the intimidation which continues to plague journalists and defenders of human rights working in DRC, where Congolese journalist Bapuwa Mwamba was slain earlier this month.
?I also wish reiterate for the umpteenth time that the agents of the ANR - the National Intelligence Service - should not assume duties which they are not authorized to carry out by law,? Mr. Castaņon added.
Concerned by the growing number of violent incidents between members and sympathizers of the various political parties, Mr. Castaņon encouraged all the parties to respect the Code of Good Conduct.
?Political candidates and their parties should show tolerance towards their political adversaries. They should also desist from using children for political purposes, such as marches in particular, or in any action that encourages or involves the use of children in violence, or in the commission of reprehensible acts,? he said.
The election, scheduled for 30 July, will involve an electorate of 25.5 million voters casting ballots in some 50,000 polling stations for some 33 presidential, over 9,000 national legislative and over 10,000 provincial assembly candidates. It is their first chance to choose their own government in 45 years.