Monuc | Published on September 13, 2006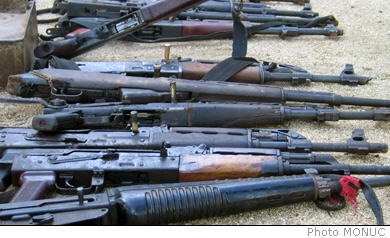 At the weekly MONUC press conference this Wednesday September 13, MONUC stated that it remains concerned with the large number of arms, and men with arms circulating in Kinshasa, as the second round of presidential elections approaches.

This follows the concerns expressed by other members of the international community, notably the European Union and the CIAT, the Committee in Support of the Transition in the DRC.

Deputy MONUC spokesperson Jean-Tobie Okala said that the large circulation of arms and men with arms around the city 'was not good' for the electoral process.

On this issue, Mr. Okala said that there were two main elements which, if undertaken, would improve the situation.

"The first is will, one must have a real will, among all the actors in the process. The second element is the brassage* process, which must be accelerated, as there still remains a lot of FARDC soldiers who have not been retrained and reintegrated."

In addition, many questions were posed in relation to the recommendation of the CIAT that all members of the FARDC- the Congolese armed forces- including those of the protection forces of Mr. Bemba and Mr. Kabila, the two presidential candidates, be ordered to their barracks for the remainder of the elections.

As of yet, no such order has been given by the force commander of the FARDC.

"The CIAT never imposed this measure of billeting, they proposed it to the government, and as we are partners in this process, we must wait for the government's decision on this matter," Mr. Okala explained.

Meanwhile, on the subject of political negotiations between the two presidential candidates, MONUC said that there was currently no blockage in the process.

"As Mr. Javier Solana, the EU High Representative for foreign affairs said yesterday, a meeting between the two presidential candidates is imminent. We hope that the two candidates for the second tour will meet, because we demand it, the international community demands it, and the Congolese people demand it," Mr. Okala concluded.

*Brassage is the process whereby ex combatants in the DRC are retrained in special centres nationwide, and are then reintegrated into the DRC armed forces - the FARDC.