VOA News | Published on October 26, 2006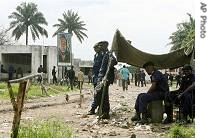 Congolese police offices stand guard outside Kinshasa's jail, October 26, 2006

Prisoners and guards clashed in a Congolese prison Thursday, one day after a group of inmates escaped from the facility.

The prison director says at least nine inmates were injured, three of them seriously, as guards moved to quell a riot at the prison in Congo's capital Kinshasa.

Various sources near the jail reported hearing gunfire and smelling tear gas.

A VOA correspondent in Kinshasa says the riot broke out because of new restrictions on visitors trying to bring food to inmates.

As many as 14 prisoners escaped from the jail on Tuesday. Prison officials have not confirmed reports that the prisoners were convicted for roles in the 2001 assassination of former Congolese President Laurent Kabila.

One jail official said there were no signs of a breakout, and authorities are investigating how the inmates escaped.

The incidents have raised tension in Kinshasa as the Congolese voters prepare for Sunday's presidential run-off election.

Some information for this report was provided by AFP and AP.