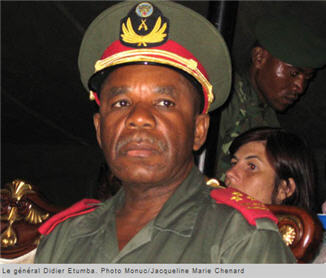 Congo's Chief of Army Staff Didier Etumba
The army chiefs of general staff of the Democratic Republic of Congo (DR Congo), Burundi and Rwanda will open a meeting on Tuesday in Matadi, the provincial capital of Bas-Congo, to discuss the security situation in the sub- region, according to the military.
The three parties last year met in Goma, the provincial capital of North Kivu, also in DR Congo, to evaluate the Kimia ll operations against the Rwandese rebels of the Democratic Forces for the Liberation of Rwanda (FDLR).
The FDLR is reportedly operating in small groups in DR Congo's North Kivu and South Kivu provinces since being routed in the joint military action of DR Congo and Rwanda in early 2009. The Kimia ll operations were launched by the Congolese army with the backing of the UN mission in the central African country in pursuit of the FDLR remnants. The rebel group is linked to the 1994 Rwanda massacre.
The tripartite meeting will equally look at ways of improving military cooperation among the three neighboring countries.