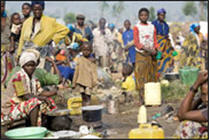 The United Nations refugee agency said today it is assisting over 100,000 civilians who have fled eastern Democratic Republic of the Congo (DRC) in recent months due to the ongoing military offensive against Hutu militants and banditry by armed groups.
Since last December, the UN High Commissioner for Refugees (UNHCR) has registered 15,508 new internally displaced persons (IDPs) who fled the troubled eastern province of North Kivu.
UNHCR spokesperson Andrej Mahecic told reporters that this latest wave of displacement brings to 116,000 the population of camps in and around Kitchanga. The agency is currently managing 47 IDP camps in the region, providing protection and assistance.
Fierce fighting has persisted in eastern DRC, particularly in North and South Kivu, where Hutu militants blamed for the Rwandan genocide of 1994 have fled. Last year the Congolese Government launched several offensives targeting the group known as the Democratic Forces for the Liberation of Rwanda (FDLR), with logistical support from the UN peacekeeping mission in the country (MONUC).
UNHCR noted that other militias and armed groups have taken advantage of the situation, attacking civilians, looting property, committing rape and burning homes.
"We estimate that so far we have registered only a part of the recently displaced population and that many more could be sheltering with host families or hiding in the woods fearing to return to their homes," said Mr. Mahecic. "These IDPs cannot be accessed due to insecurity and impassable roads."
UNHCR estimates that there are some 2.1 million IDPs in eastern DRC where it says harassment, human rights abuses, rapes and intimidations against civilians are regularly reported by the local population.