Xinhua | Published on March 24, 2010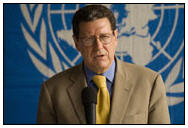 The special representative of the UN secretary general in the Democratic Republic of Congo (DR Congo), Alan Doss, confirmed on Tuesday in Kinshasa the continued support of the UN mission in DR Congo (MONUC) for the Congolese armed forces (FARDC).
Doss made these remarks during a meeting with Congolese National Defense Minister Charles Mwando Nsumba.
The two officials discussed the reforms of DR Congo's security system.
Doss hailed the draft bill on military reforms that is under discussion in the Congolese parliament.
"This a testimony to the desire by the Congolese government to have a genuinely republican army that is at the service of the nation," the MONUC head affirmed.
Doss also praised the great progress in FARDC-MONUC operations in the east of DR Congo in joints efforts to restore peace in the restive provinces of Kivu and Orientale.