Xinhua | Published on April 04, 2010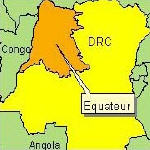 Enyele rebels entered the capital of Equateur province in the northwest of the Democratic Republic of Congo (DR Congo) on Sunday, according to provincial government sources.
The insurgents of the Enyele tribe entered the city of Mbandaka by force and took the local airport, the sources reported.
Radio Okapi run by the UN Mission in DR Congo known as MONUC quoted the sources as reporting that about 100 assailants landed at the River Congo port of Banika on Sunday morning, fighting their way into the city.
The insurgents launched the attack in the direction of the residence of governor Jean Claude Baende, the radio said.
The rebels claimed to have controlled Mbandaka and seized the logistic base of the government forces FARDC, whu had deserted the city. The attack caused a panic among citizens, the radio said.
Baende, who has been in the capital Kinshasa since last week, confirmed the raid as the Enyele insurgency.
MONUC maintained blue casques in Mbandaka where they were making an assessment of the situation, the radio said.
The rebel swoop came after Governor Baende, announced the end of the months old Enyele rebellion on Tuesday.
Baende said "the Enyele rebellion" was no longer "an organized group, but just as small groups of residual elements who are searching for means of survival."
The armed youths from the Enyele tribe started attacking on Oct. 30 on the Boba tribe over the control of fishing points in Dongo. But when they were carried away by their victories, they formed a rebel movement and began to take away some other localities like Buburu in the Gemena district.
In early January, FARDC said it had taken control of Dongo, driving the insurgents out of the stronghold after fighting.
The Enyele insurgency has killed more than 100 people, including police officers intervening in the tribal clash. It has also caused massive displacement, with 50,000 refugees still taking shelter in Impfondo in the Republic of Congo.