U.N. Security Council Cancels Congo Trip

Congo News Agency | Published on April 16, 2010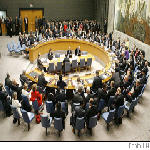 The United Nations Security Council cancelled a trip to the Democratic Republic of Congo (DRC) on Friday due to ash cloud from an Icelandic volcano that has caused air travel disruptions across Europe since Thursday.
The Security Council delegation was to stop in Paris before heading to Kinshasa to hold discussions with Congolese authorities on the security situation in the country and the planned withdrawal of the United Nations peacekeeping force in the Congo (MONUC).
The trip, which initially also included Rwanda and Uganda, had already been shortened during the week to only include the DRC. The members of the Security Council are currently in talks on a new round of sanctions against Iran over its nuclear program.

On the web: Congo News Agency