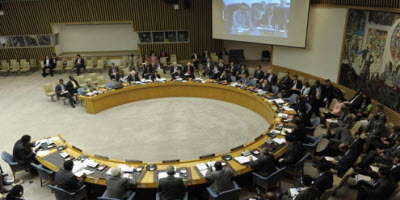 The Security Council today reiterated its call for credible and peaceful elections in the Democratic Republic of the Congo (DRC), stressing that the country's Government bore the primary responsibility to ensure that the polls are above reproach.
In a press statement following a briefing by Roger Meece, the Special Representative of the Secretary-General for DRC on the preparations for next month's elections, the Council emphasized the importance of free and constructive political debate, freedom of expression and assembly, equal access to all media and the safety for all candidates.
Election observers and witnesses, journalists, human rights defenders and members of the civil society, including women, must also be allowed to carry out their duties without obstruction.
Member of the Council stressed the need for the country's electoral commission, the Commission électorale nationale indépendante (CENI), to have regular dialogue with all candidates to ensure a peaceful process before, during and after the elections.
They encouraged CENI to address technical issues perceived to be crucial to the elections' credibility, including the reliability of the electoral database and the tabulation of results. The Council welcomed CENI's initiative to establish a National Mediation Committee to resolve disputes between all stakeholders.
The Council strongly encouraged all parties to sign up to and to respect the electoral code of conduct and to participate in the entire electoral process. It expressed concern over reports of election-related violence on the streets of Kinshasa, and called upon all parties to campaign peacefully.
The Council also welcomed current and planned deployment of international, regional and national observers, and the efforts by DRC political parties, civil society and religious leaders to ensure national ownership of the electoral process.
It called on the UN Stabilization Mission in the DRC (MONUSCO) to continue to support the organisation and conduct of the elections, and encouraged the Special Representative and the mission to continue their dialogue with the CENI, including through the Election Partnership Committee, and to support dialogue between the Commission and all Congolese stakeholders, particularly through the Political Parties' Forum.
The Council took note of the Secretary General's letter highlighting how MONUSCO's shortage of military helicopters was affecting its ability to implement its mandate. It welcomed the commitment by some countries to provide the required helicopters, and encouraged them and the UN Secretariat to rapidly finalize discussions so that the aircraft are deployed before the elections.