UN News | Published on June 09, 2010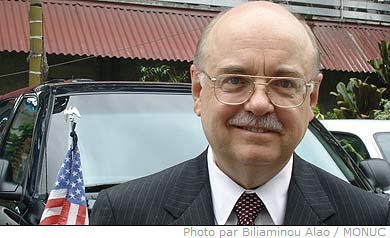 Secretary-General Ban Ki-moon has named Roger A. Meece, a United States national with over three decades of international experience, including in a number of African nations, as the top United Nations envoy in the Democratic Republic of the Congo (DRC).
Mr. Meece will succeed Alan Doss of the United Kingdom, who concludes his term as the Secretary-General's Special Representative and head of the UN mission in DRC at the end of June.
"The Secretary-General expresses his gratitude to Mr. Doss for his significant contribution to United Nations peace efforts in the Democratic Republic of the Congo and for his effective leadership of the United Nations Organization Mission in the Democratic Republic of Congo (MONUC) where he has served since January 2008," said a news release issued by the UN.
Mr. Meece is no stranger to DRC, having served as his country's ambassador to the vast African nation from 2004 to 2007, and as Deputy Chief of Mission in the capital, Kinshasa, from 1995 to 1998. His previous experience there includes involvement in conflict resolution efforts and support to elections.
The new envoy has also served in diplomatic posts in a number of other African countries, including Malawi, Cameroon, Nigeria and the Republic of Congo.
Last month, the Security Council agreed to transform the UN operation in DRC – known as MONUC – into a stabilization mission in the coming weeks, authorizing the withdrawal of up to 2,000 UN military personnel by 30 June from areas where security has improved enough to allow their removal.
The Council also authorized the new operation, which will be known as the UN Organization Stabilization Mission in the DRC (MONUSCO), to stay in the country until 30 June 2011.