Le Potentiel | Published on August 04, 2010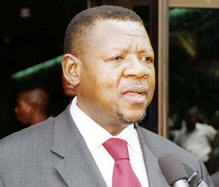 Lambert Mende
The commander in chief of the Ugandan rebel ADF/NALU, colonel Katodo, was killed by the Congolese Armed Forces (FARDC) during operation Ruwenzori in North Kivu Province, Information Minister and government spokesman Lambert Mende said on Tuesday at a press conference in Kinshasa.
Nearly all places in the area of Beni previously controlled by the rebel group have been liberated, and displaced people are starting to return home. All major roads in the area have been reopened, Mende said.
He added that residual elements of the ADF/NALU had fled in disarray towards Mount Ruwenzori, an appropriate way for them to take to go back to their country, which is where the FARDC have been ordered to send them back.
Mende also said that the FARDC have captured the headquarters of the ADF/NALU at Mwalika.

On the web: Congo News Agency | Form Le Potentiel article