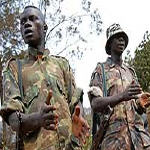 Rebels from the Democratic Forces for the Liberation of Rwanda (FDLR) have been reported in the North Kivu region of Walikale, where they are, once again, conducting a terror campaign against the local population.
From Saturday night to Sunday, FDLR rebels made an incursion into the village of Butua, some 12 km from the center of Walikale, and looted and kidnapped civilians, local sources said.
The assailants, said to have been joined by elements from a Mai Mai militia, were armed with machetes, spears, and guns. They attacked as the residents of the village were sleeping. The rebels went house to house in butua and looted everything on their way. They took livestock and other objects of value from the population.
A human rights activist in Walikale, who asked not to be identified, said that about twenty people, including women, were kidnapped and taken into the forest. The same source said that similar attacks were reported in the villages of Karumya, Kason, Tobo and Kisa, around Bafuna, in the region of Wanyanga.
Fearing attacks from the FDLR, residents from the villages of Nyasa, Bulambo, and Kampala, are spending the night in the forest, the same sources said.
The administrator of Walikale has confirmed these reports and said he expects the FDLR rebels to carry out more attacks.
Civil Society organizations in Walikale deplored the low number of the Congolese Armed Forces (FARDC) soldiers in the area of Wanyanga. They called for an increase of FARDC units in these villages.
Other reports have emerged of rapes by FDLR rebels in the region. The United Nations confirmed on Monday a report by a local humanitarian organization that around 200 women have sought treatment after being raped by FDLR rebels.
The attacks are said to have been carried out around July 30. The United Nations Organisation Stabilization Mission in the Congo (MONUSCO) has a military base in Kibua, some 30 kilometres east of the scene of the attack.
The UN suggested on Monday it did not intervene, or was unaware of the attacks at the time, because the rebels "blocked the road and prevented villagers from reaching the nearest communication point at the time the crimes were committed."
Three United Nations peacekeepers from India were killed by Mai Mai militiamen said to be allied with FDLR rebels in an attack on a UN base in Kirumba, North Kivu, on Wednesday last week.
The rebel Democratic Forces for the Liberation of Rwanda is made up of ethnic Rwandan Hutu militiamen who were involved in the 1994 genocide in Rwanda against ethnic Tutsis and moderate Hutus. They crossed the border into eastern Congo along with millions of Hutu refugees who fled the country after the genocide fearing reprisals.
They have since committed numerous atrocities against the Congolese population in North and South Kivu provinces, and are a main source of the insecurity that has plagued the region for more than a decade, leading to millions of Congolese deaths.

On the web: Congo News Agency | Excerpts from Le Palmares article