UNHCR | Published on August 24, 2010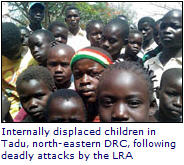 UNHCR has begun today with the transfer of about 1,500 refugees from the Central African Republic to a newly constructed refugee camp in Kpala-Kpala, close to the town of Bondo in the remote district of Bas-Uélé. The transfer is combined with the individual registration of refugees and the distribution of Non Food Items. The operation is run in close cooperation with the implementing partners Caritas Germany and the National Refugee Commission (CNR). The UN sister agencies WFP and FAO support the effort in their respective sectors.
The Lord's Resistance Army (LRA) attacks in the Central African Republic (CAR), north of the Mbomu river, which forms the natural border to the Democratic Republic of the Congo (DRC), have provoked a massive displacement of about 15,000 persons within the CAR (estimate according to an inter-agency/NGO task-force in Bangui) between March and May 2010. 1,156 persons have fled and sought refuge in Bondo territory, Bas-Uélé (Oriental Province, DRC), following attacks in their localities and settled among the local population. The prima facie refugee status has been recognized by the Congolese government at the beginning of June. Due to the difficulties of access in Bondo territory, UNHCR Bunia assumes that there are still groups that have not been reported and relies on a working figure of 1,500 persons.
After a thorough assessment, UNHCR, its partners and the local authorities came to the conclusion that the refugees who had temporarily settled close to the border would best be relocated to a site next to the village of Kpala-Kpala, at about 70 km distance.
Despite significant logistical constraints, UNHCR and its partners have established the camp, including construction of emergency shelters and latrines, as well as exploitation of a water source. From the very beginning, the operation has received strong support from the diocese of Bondo. UNHCR and CNR have been present to solve individual protection cases and to sensitize the local population and authorities regarding the rights of refugees.