BBC News | Published on August 26, 2010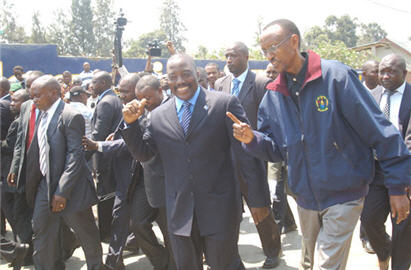 Joseph Kabila with Paul Kagame in Goma on August 6, 2009
The BBC has seen a draft UN report that says crimes by the Rwandan army and allied rebels in Democratic Republic of Congo could be classified as genocide.
The report details how they targeted Rwandan Hutu refugees and Congolese Hutus in DR Congo, from 1993-2003.
It lists human rights violations committed by security forces from all countries involved in what has been called an "African world war".
The final report should be made public in the next few days.
The draft sheds light on 10 years of atrocities committed against civilians on the Congolese territory. The country was known as Zaire until 1997.
But more importantly, it brings details to the unresolved debate over the question of alleged genocide of ethnic Hutus between 1996 and 1998.
'Rwandan pressure'
About 20 human right officers have documented, through hundreds of pages, what they call widespread and systematic attacks by the Rwandan army and the Congolese AFDL rebel movement.
Those targeted were Rwandan Hutus who had fled into Congo after the genocide against ethnic Tutsis in Rwanda.
But the report says that attacks against Hutus who were not refugees seem to confirm that all Hutus were targeted.
In some regions, it says, checkpoints were used to identify people of Hutu origin and eliminate them - estimating that tens of thousands had been killed.
According to the report, such acts suggest a premeditated and precise methodology. Moreover, many of the victims were children, women, elderly people and the sick.
The UN investigators have also gathered information on alleged crimes committed by the security forces of many of the countries and armed groups involved in what had become a regional war.
However, Congo expert Jason Stearns says this report will greatly tarnish the reputation of the current Rwandan government that prides itself on having brought to an end the genocide against Tutsis in 1994.
Sources close to the investigation say that the Rwandan authorities have put pressure on the UN to tone down the report.
But the UN High Commission for Human Rights has refused to comment until the final report is published.