UN News | Published on August 31, 2010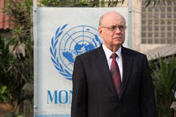 The United Nations peacekeeping force in the Democratic Republic of the Congo (DRC) has expressed deep concern after the apparent abduction of a human rights defender who had spoken out against alleged rights violations by members of the country's military.
Sylvestre Bwira Kyahi, the president of the Civil Society of Masisi, a non-governmental organization (NGO), was last seen on 24 August in the town of Goma, the capital of the troubled North Kivu province in the DRC's east.
Two men in military uniform reportedly forced Mr. Bwira Kyahi to board a military vehicle, the UN peacekeeping mission, known as MONUSCO, said in a press release issued yesterday.
The mission called on Congolese authorities to do everything possible to find Mr. Bwira Kyahi as soon as possible and to "stop the threats, intimidation and other acts of harassment of human rights defenders throughout the entire DRC."
Mr. Bwira Kyahi has been the subject of threats and acts of harassment in the past, especially after he released an open letter late last month in which he accused Government soldiers in the Masisi area of human rights violations and called for their relocation.