UN News Service | Published on November 29, 2010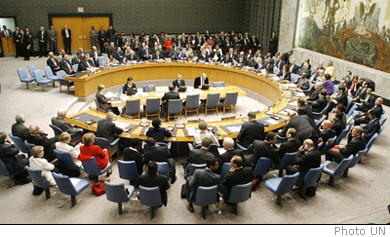 The Security Council today extended for another year the arms embargo and other sanctions it imposed on the Democratic Republic of the Congo (DRC), and requested Secretary-General Ban Ki-moon to renew the mandate of the group of experts tasked with monitoring the measures.
Council members voted unanimously to renew the measures, which also include a travel ban and an assets freeze on those who violate the embargo, until 30 November 2011.
They requested the Secretary-General to extend the Group of Experts tasked with monitoring the embargo for the same period, and asked the Group to concentrate its activities in areas affected by illegal armed groups, including North Kivu, South Kivu and Orientale Provinces.
The 15-member body also requested the experts to focus on regional and international networks providing support for such groups, criminal networks and perpetrators of serious violations of international humanitarian law and human rights abuses, including those within the national armed forces, in the eastern part of the country.
In its latest report, the Group of Experts highlights the involvement of certain criminal networks with the Congolese armed forces, known as FARDC, in the illegal exploitation of natural resources, through illegal taxation, protection rackets, and various forms of commercial and coercive control.
"This involvement, which President Kabila has publicly condemned, has led to pervasive insubordination, competing chains of demand and failure to actively pursue armed groups and protect civilians," states a press summary of the report, which was made public today.
The report also observes that, though forced to concede most of the main mining sites in the Kivus to the FARDC, Congolese and foreign armed groups continue to control natural resources in more remote areas and have increasingly relied on intermediaries and predatory attacks to profit from the mineral trade.
Despite their varying strategic agendas, these armed groups have expanded coalitions among themselves with a view to maintaining their capacity to attack the FARDC and pillage local populations.