Congo News Agency | Published on April 10, 2012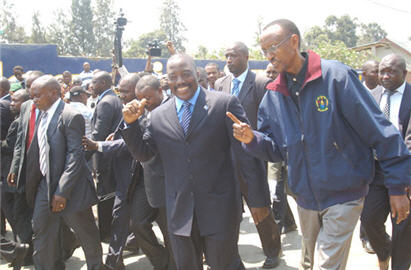 Under a brighter sky, President Paul Kagame of Rwanda, who had supported the CNDP rebels, with President Joseph Kabila during a visit in Goma in 2010
President Joseph Kabila and the Congolese Army Chief of Staff, General Didier Etumba, arrived in Goma on Monday to deal with the security threat posed by the defections of former rebels integrated into the army under a peace deal.
General Etumba, who precedeed President Kabila in the capital of North Kivu Province, said upon his arrival that "those who do not want to submit to the republican order will be hunted down by the army," alluding to the former CNDP rebels who left their units in North and South Kivu provinces last week.
"There are some undisciplined soldiers that must be hunted down and they are being hunted in the most radical way. This is not about demands. Someone who is undisciplined and does not want to submit to the Constitution of the Republic, the laws of the Republic, someone who does not follow the instructions of the President and Supreme Commander of the Armed Forces.  Someone who refuses to be patriotic cannot serve under the flag. And when this happens, when they take up arms, well, they must be hunted and neutralized and those who have legal problems will have to answer for them."
The defections began after Congolese authorities came under heavy pressure from the international community requesting the transfer of Bosco Ntaganda to the International Criminal Court (ICC). Former CNDP rebels began deserting their units, taking ammunitions and other military equipment with them.
General Ntaganda, a former CNDP rebel leader integrated into the Army in 2009 under a peace deal, is wanted by the ICC for war crimes committed in 2002 and 2003 in the Ituri region, in north-eastern DR Congo. He is accused of conscripting children under the age of 15 into his militia.
After Thomas Lubanga was convicted by the ICC on March 14 for using child soldiers, ICC prosecutor José Luis Moreno Ocampo said he will press Congolese authorities to arrest Ntaganda.
Belgian Foreign Minister Didier Reynders is reported to have urged President Kabila to arrest Ntaganda during a visit to Kinshasa two weeks ago.
Congolese authorities have so far resisted arresting Ntaganda, saying his arrest may cause more harm than good.
Ntaganda, a former member of the Rwandan army, replaced warlord Laurent Nkunda, also a former member of the Rwandan army, as the leader of the CNDP rebels who wreaked havoc in eastern Congo for years.
The United Nations accused Rwanda in 2008 of supporting the CNDP. Congolese and Rwandan authorities struck a deal in 2009 that led to the arrest of Nkunda by the Rwandan army and subsequent joint military operations with the Congolese army against Rwandan FDLR rebels based in eastern Congo.


Excerpts from Radio Okapi article