VOA News | Published on September 25, 2009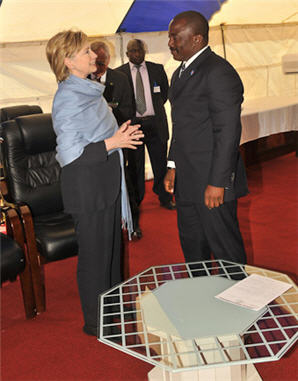 Hillary Clinton and Joseph Kabila in Goma on August 11, 2009
U.S. Secretary of State Hillary Clinton Friday urged global action to curb conflict-related violence and sexual exploitation against young women and girls. Clinton is to chair a special session of the U.N. Security Council on the issue next Wednesday.

Clinton says preventing the exploitation and marginalization of girls is no longer an afterthought but a core foreign policy objective of the United States, which is co-sponsoring a Security Council resolution on the issue next week.

The secretary of state joined her counterpart from the Netherlands, Maxime Verhagen, at a meeting at U.N. headquarters Friday previewing next week's council meeting.

On an Africa trip last month, Clinton met with women and girls raped and otherwise abused by soldiers and irregular forces in the conflict in the eastern part of the Democratic Republic of the Congo, the DRC.

She told U.N. delegates and women activists here that the harrowing testimony she heard only underscored for her the point that societies cannot reach their full potential if half the population, women and girls, are oppressed and subjugated.

"When women are accorded their rights and afforded equal opportunities and education and health care and employment and political participation, they invest in their families, they lift them up, they contribute to their communities and their nations," Clinton said. "When they are marginalized, when they are mistreated, when they are ignored, when they are demeaned, the progress is not possible, no matter how rich and well-educated the elite may appear."

Clinton said the United States is pressing DRC authorities in Kinshasa "very hard" to bring to justice five military officers who have either been directly implicated in rape and violence against young women, or created the environment in which the abuses could occur.

She also decried dowry-related murder and so-called "honor killings" of young women, and selective abortion and infanticide of females in many countries that has created the phenomenon of millions of "missing women."

Dutch Foreign Minister Verhagen, for his part, said the abuse of young women is not limited to developing countries as evidenced by recent highly publicized cases of murder, long-term abduction and exploitation of young women in Europe and the United States.

"Human rights apply to all people, in all places, at all times, including the world's children," Verhagen said. "They applied to Rowena, Savannah, Elizabeth, Jaycee, Fawzia and to so many more girls whose names and faces we do not know. Where does responsibility begin? It begins here in this room, with all of us. Where does it end? It does not. Our responsibility as politicians never ends."

The U.S.-sponsored Security Council resolution, expected to win easy approval next week, will create a special representative to the U.N. secretary-general to lead, coordinate and advocate efforts to end gender-based violence in armed conflict.