United Nations Secretary-General | Published on October 25, 2007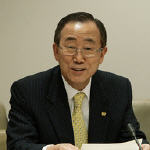 The following statement was issued today by the Spokesperson for UN Secretary-General Ban Ki-moon:
The Secretary-General is deeply concerned about the increased displacement, human suffering and sexual violence in North Kivu in the Democratic Republic of the Congo as a result of fighting in the area between Congolese forces, dissident troops and armed militias, as well as elements of the Forces Démocratiques de Libération du Rwanda (FDLR).
The United Nations and its partners are doing their utmost to provide for the basic humanitarian needs of civilians caught up in the conflict. However, continued insecurity is complicating these efforts. He calls upon all belligerents to ensure total and unrestricted access of humanitarian actors to civilians affected by the conflict, in accordance with international humanitarian law.
The Secretary-General urges all dissidents to join the "brassage" process immediately and without conditions. He also calls upon the Government of the Democratic Republic of the Congo to ensure the protection of all civilians in the region. These are essential first steps towards bringing an end to the suffering of the civilian population and towards resolving the root causes of the conflict, in particular the continued presence in the Democratic Republic of the Congo of the FDLR and other foreign armed groups.
For information media • not an official record