UN News | Published on September 12, 2008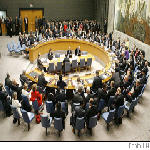 The Security Council today voiced serious concern at the recent fighting between Government forces and rebel groups in eastern Democratic Republic of the Congo (DRC), some of the worst violence since the signing of a January peace deal.
The Council stressed that the clashes that broke out in North Kivu on 28 August between the country's armed forces (FARDC) and the National Congress for People's Defense, known by its French acronym CNDP, are a violation of the Actes d'Engagement signed by both parties earlier this year.
"The Members of the Council regretted the failure by the signatories to respect and implement their commitments effectively and in good faith," according to the statement read out to the press by Ambassador Michel Kafando of Burkina Faso, which holds the rotating presidency of the Council for September.
In the January agreement, the CNDP and other armed groups in North and South Kivu provinces had undertaken to observe a complete and immediate ceasefire, begin the withdrawal of their forces, and to abide strictly by the rules of international humanitarian and human rights law.
"Council members urged the CNDP to immediately cease its offensive operations and took note of a letter from that group today that announces the immediate and unilateral withdrawal of its troops," added the statement, which followed a closed-door briefing on the latest developments by Assistant Secretary-General for Peacekeeping Operations Edmond Mulet.
The security situation in the area was "relatively calm" today, except for some minor skirmishes in North Kivu, according to the UN peacekeeping mission in the DRC (MONUC), which yesterday took action in several areas of North and South Kivu to hold back armed groups and protect civilians caught in their crossfire.