UN News | Published on September 19, 2008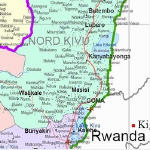 United Nations peacekeepers backed by combat helicopters opened fire today on rebel forces in the eastern Democratic Republic of the Congo (DRC), forcing them to withdraw after they tried to take control of a town 60 kilometres from the region's main city.
Forces from the UN Mission in the DRC (MONUC) had been on top alert since yesterday when the rebel National Congress for People's Defence (CNDP) announced that it intended to take control of a town in North Kivu province within the next 24 hours.
Early today new clashes occurred between the DRC army and the CNDP, which made several offensive moves towards Masisi, 60 kilometres north of the provincial capital Goma.
After the rebels defied several appeals to withdraw immediately, MONUC called in its combat helicopters and fired several warning shots before opening fire on the new CNDP positions. The rebels then withdrew.
Numerous people uprooted by the clashes remain under UN protection in the centre of Masisi and MONUC has evacuated 80 Congolese and international humanitarian workers from the town to Goma.
Hostilities have continued in eastern DRC despite stabilization in much of the rest of the vast country, which was torn by years of civil war.