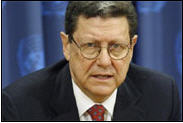 Elements from a mainly Tutsi rebel group in eastern Democratic Republic of the Congo (DRC) are continuing to commit abuses, beating and detaining civilians and pillaging businesses and private homes, the United Nations reported today, calling for an end to the violence.
The UN Mission in the DRC, known by its French acronym MONUC, said the abuses by the National Congress in Defence of the People (CNDP) of renegade general Laurent Nkunda were taking place in Kiwanja in North Kivu province, which has seen an upsurge of fighting between the rebels and the Government army.
"I wish to tell Mr. Laurent Nkunda to put an end to these abuses and violations," Secretary-General Ban Ki-moon's Special Representative Alan Doss told a news conference in Kinshasa, the DRC capital.
"I have also asked the Government to stop the actions of other armed groups in North Kivu, including the FDLR, which are not respecting the ceasefire and commit abuses," he said, referring to the mainly Hutu Democratic Forces for the Liberation of Rwanda.
"From the humanitarian point of view, the consequences for the civilian population are disastrous," he added of the resurgence of fighting, which has uprooted an estimated 250,000 people since August, beyond the 800,000 driven from their homes by earlier violence.