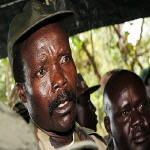 LRA leader Joseph Kony

The United Nations peacekeeping mission in the Democratic Republic of the Congo (DRC) today rushed a company of Government army troops to the north-east of the vast country, following reliable reports that elements of the Ugandan rebel Lord's Resistance Army (LRA) had massacred at least 15 villagers.

According to the reports, the rebels, fleeing a joint military operation by the DRC, Uganda and Southern Sudan to flush them out of a remote national park in north-eastern DRC, committed grave violations of human rights against civilians in Faradje, 120 kilometres east of Dungu, killing the villagers, plundering and destroying houses, said the mission, known by its French acronym MONUC.

"MONUC is gravely concerned by these reports from reliable sources," the mission said in a statement.

"At the request of the chief of staff of FARDC (the DRC army), MONUC today transported a company of Congolese soldiers to the area in order to prevent further attacks by the LRA," it added. "Tomorrow a second company will be transported to another town in Haut-Uélé, where another LRA group is operating."

The mission recalled the Security Council statement of 22 December condemning the LRA attacks as a permanent threat to security in the region. "The LRA has been clearly scattered by air attacks against its bases and is now, in flight, taking it out on the civilian population," it said.

"MONUC will do all in its power to ensure the protection of civilians in the area and to facilitate humanitarian aid within the limits of its ability, given the concentration of its force in the Kivus," it added, referring to the provinces where most of the UN peacekeepers have been deployed in the face of a separate conflict between the FARDC, the mainly Tutsi rebel Congrès national pour la Défense du people (CNDP), and other armed groups.

The mission called on the DRC, Uganda and Southern Sudan to "do the maximum to prevent and stop the retaliation against the civilian population."

The Security Council has supported the offensive against the LRA. Ugandan Government forces have been fighting the LRA in the north of that country since the mid-1980s. The rebels, who have since spilled over into Sudan and DRC, have become notorious for human rights abuses including the killing and maiming of civilians and the abduction and recruitment of children as soldiers and sex slaves.

In its statement on 22 December the Council called on the group to immediately sign a previously negotiated peace accord, condemning the repeated failure of LRA leader Joseph Kony to do so. The International Criminal Court (ICC) issued arrest warrants for Mr. Kony and two other LRA leaders, Okot Odhiambo and Dominic Ongwen, in 2005 on charges of war crimes and crimes against humanity, including murder, rape and enlistment of children through abduction.