VOA News | Published on January 28, 2009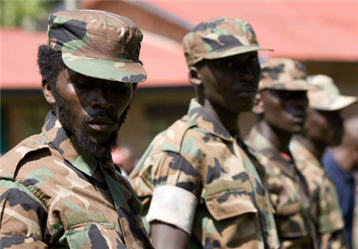 Plans to begin integrating rebels from the Democratic Republic of Congo into the army have faltered, highlighting the challenges of bringing peace to the troubled region.
At least 100 rebel soldiers along with foreign diplomats and army commanders gathered Wednesday in the eastern city of Rumangabo for what was supposed to be a ceremony to launch the integration progress.
However, by Wednesday afternoon most of the rebels had left following delays and confusion.
Army officials said the ceremony was postponed, but did not give a new date. They declined to comment on what went wrong.
Splits have emerged in the rebel group, National Congress for the Defense of the People, in recent weeks. Military commander Bosco Ntaganda said earlier this month that he had overthrown founder Laurent Nkunda and was ready for peace. He said his men would work with Congo's army to fight ethnic Hutu militias in the region.
Nkunda was subsequently arrest in neighboring Rwanda, but it is not clear how much of the rebellion backs Ntaganda.
Also Wednesday, U.N. officials say the U.N. peacekeeping operation in Congo has agreed to help Congo's government plan military strategy against the Hutu rebel groups.
Last week, several thousand Rwandan troops crossed into Congo to help Congolese forces hunt down and disarm Rwandan Hutu rebels. The Hutu rebels are accused of carrying out the 1994 Rwandan genocide and the CNDP rebels have claimed they are protecting Tutsi communities in Congo from the Hutu extremists.