Xinhua | Published on November 03, 2009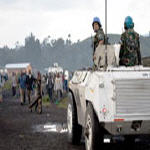 The UN mission in the Democratic Republic of Congo (MONUC) has confirmed the improvement of the situation in the conflict-stricken central African country, especially in its unstable east.
Despite occasional reports of violence by remnants of insurgency and ethnic clashes, MONUC is seeing progress and considering a shift of the mission to other concerns, local media reported on Sunday, citing Alain le Roy, the UN deputy secretary general in charge of peacekeeping operations.
A new configuration for MONUC is in the offing based on the progress achieved in Congo's east, he said, expressing total satisfaction with the situation, which has remarkably improved compared with a year ago.
During his meeting with the MONUC staff and Congolese Prime Minister Adolphe Muzito, the UN official noted that the mission was looking at how to reduce its number so that they could now concentrate on the important tasks of peace consolidation and the re-establishment of the human rights.
The emissary vowed to go along with development partners to assist the reconstruction efforts being made by the Congolese authorities.
Meanwhile, he denounced sexual violence committed by any perpetrators in the aftermath of the joint military crackdown on insurgency with neighboring Uganda and Rwanda early in the year, urging the government to bring criminals to justice.