ACP | Published on August 25, 2010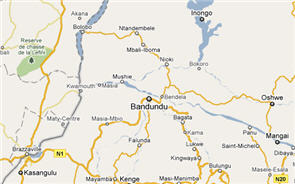 A woman, who has not yet been identified, is the sole survivor of a plane that crashed in the city of Bandundu on Wednesday in early afternoon. She is in critical condition and receiving intensive care at the General Hospital of Bandundu.
The plane crashed in a populated area on the outskirts of Bandundu. It is still difficult, in the absence of the flight manifest, to determine the number of passengers who were aboard the aircraft, which has a capacity of 16 seats. Initial reports say that 21 bodies were removed from the plane and taken to the hospital.
The plane arrived in Bandundu in the morning from Kinshasa then left for a long route that took it to Bokoro, Kiri, and Nioki. It was on its way back to Bandundu from Nioki when the crash happened.
Pending an analysis of the black box, sources say the plane may have run out of fuel during the final minutes of the flight, as it was approaching the airport in Bandundu.
The pilot, co-pilot, and the owner of the plane, who was conducting an inspection trip to assess the cost-effectiveness of the new route, are all dead. Their bodies were evacuated to the morgue at the General Hospital of Bandundu.

On the web: Congo News Agency | ACP article