Death Toll Rises After Hewa Bora Airways Plane Crash in Goma

Congo News Agency | Published on April 16, 2008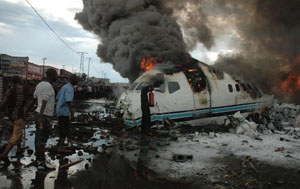 ©Amanileo.org
Authorities in Goma were scrambling to take care of more than 100 people injured after a Hewa Bora Airways plane crashed into a market in Goma on Wednesday. The death toll now stands at 40 and more than 20 people are still missing. People were lining up at the city's morgue to find out if their loved ones were among the dead.
The president of the National Assembly Vital Kamerhe announced during a special session of parliament that the government had decided to cancel an ongoing doctors' strike in Goma and doctors were being flown in from Bukavu and Kinshasa to help care for the injured.
President Joseph Kabila expressed "deep consternation" over the disaster and called for an investigation to determine the cause of the crash.