Media called to order over the illegal publication of "results"

By Monuc | Published on August 2, 2006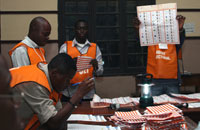 As the fever of the electoral results dominates the focus of the Congolese media and election candidates, the electoral authorities have made a call to order by denouncing "obvious violations of the electoral law".


The abuse by certain media and political actors of partial and incomplete results threatens law and order.


The electoral law prohibits the media or the candidates to diffuse their own compilations of partial results, but some did not wait to publish "tendencies" and began announcing premature winners.

In a united official statement, the High Authority of the Media (HAM) and the Independent Electoral Commission (IEC) denounced this practice as "dangerous", and challenged these media on "their responsibilities, which does not authorise them to endanger the future of the nation."

These institutions in support of democracy finally threatened sanctions "as far as closure", of the media responsible for breaking the electoral law.

The International Committee that supports the Transition (CIAT), also said they were worried by "the abuse by certain media and political actors of partial and incomplete results, which sows disorder in the spirit of Congolese citizens, and threatens law and order". The CIAT comprises international partners who support the process of the DRC democratic transition.

The IEC, who are the only ones entitled by the electoral law to publish the provisional results of the elections, have estimated that the results of the presidential elections will not be available before August 20. The results of the legislative elections will be published gradually by district, when they have been consolidated on a district level.

The presidential elections covers all the Congolese territory, therefore the IEC decided not to publish partial results for the presidential ones, and to only proclaim complete results.

The individual results of the 50,000 polling stations are to be forwarded to the 62 IEC local centres of results compilation, where they will be consolidated before publication.
This technical operation of consolidation is in progress, in the presence of witnesses of the political parties and of electoral observers. The process could last some weeks.

The provisional results published by the CEI could then be possibly disputed by the candidates through the courts of jurisdiction (Supreme Court for the presidential elections, Courts of Appeal for the legislative elections), which will then only be entitled to proclaim the final results.