Le Potentiel | Published on December 15, 2011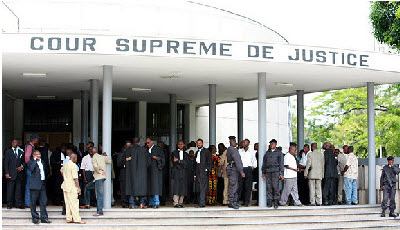 DR Congo Supreme Court (file photo) |
Enlarge
The Supreme Court held a hearing Friday on Vital Kamerhe's appeal challenging the presidential election results announced by the Independent National Electoral Commission.
Mr. Kamerhe is the only one of ten opposition candidates who filed an appeal to the Supreme Court challenging the results of the Nov. 28 presidential election in DR Congo.
The results showed President Joseph Kabila had won reelection with 49% of the votes, Etienne Tshisekedi the runner-up with 32%, and Mr. Kamerhe with 7%.
Mr. Tshisekedi has decided not file an appeal to the Supreme Court because he says it is biased.
The First President of the Supreme Court asked that Mr. Kamerhe appear in person in court as required by law. Mr. Kamerhe showed up as lawyers were still arguing on procedural matters.
Mr. Kamerhe's lawyers walked out of the courtroom after the judges rejected two of their objections, one on whether President Kabila should also be required to appear and the other on whether the court should have first notified all 11 candidates of the appeal before the hearing.
"This is a parody of justice", Mr. Jean-Joseph Mukendi wa Mulumba, the lead attorney for Mr. Kamerhe, said outside the court.
Lawyers for the INEC, who remained in the courtroom, argued that Mr. Kamerhe had provided no proof to support his appeal and thus the election should not be annulled.
"The Court should deem the appeal admissible in form, but unfounded. And justice will be served," a lawyer representing the Ministry of Justice told the court.
The judges said that they will rule on the appeal on Friday. The presidential election results announced by the INEC last Friday must be validated by the Supreme Court by Dec. 17. The new president is set to be sworn-in on Dec. 20.

On the web: Congo News Agency | Excerpts from Le Potentiel article