Congo News Agency | Published on December 13, 2011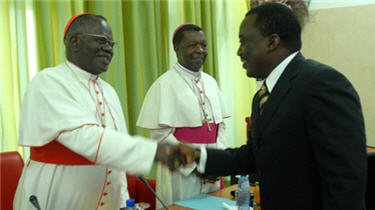 Cardinal Laurent Monsengwo greets President Joseph Kabila on Feb. 25, 2011.
Cardinal Laurent Monsengwo Pasinya issued a statement on Monday questioning the accuracy of the results of the Nov. 28 presidential election in DR Congo published by the Independent National Electoral Commission on Friday.
Cardinal Monsengwo said that the National Conference of Catholic Bishops' observers had found serious issues with the elections, along with other national and international observers, as highlighted in a recent report by the Carter Center.
The Carter Center said on Saturday that the results, showing President Joseph Kabila won re-election with 49% of the votes followed by Etienne Tshisekedi with 32%, "lack credibility."
The influential Archbishop of Kinshasa, who once dabbed in politics himself as the chairman of a transitional parliament in the nineties, said that "after analyzing the results released by the INEC on Friday, Dec. 9, 2011, it is indeed normal to conclude that they do not conform to the truth or justice.
How, for example, is it possible that on Dec. 6, Mr. Tshisekedi had 5,927,728 votes out of 17,329, 137 votes cast, but on Dec. 9, he was credited with 5,863,745 votes out 18,144,154 votes cast? He lost 64,000 votes, even though the results from 34,000 more polling stations had been added ...
But since these results are still preliminary and have to be confirmed by the Supreme Court, we ask all those challenging the results to file an appeal, to use the legal system and not resort to violence. Eighteen people have already lost their lives in these elections, that's too many."
Cardinal Monsengwo said that the Catholic Church in DR Congo is "morally obligated to offer assistance to the legal system for the polling stations in which it had observers."
"May the Supreme Court, in good conscience, feel petitioned by the whole Congolese population."