Monuc | Published on August 28, 2006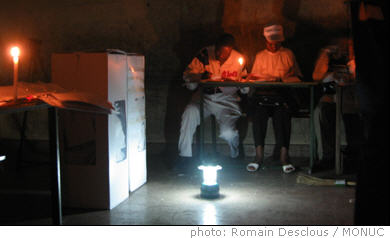 The Independent Electoral Commission (IEC) published this weekend the first partial results of the legislative elections which were held on July 30, 2006, at the same time as the first round of the presidential poll.

The results of 35 of the 169 districts of the Democratic Republic of Congo have been posted locally. The IEC confirmed the posting this weekend, in its local centers of compilation, of the results of 35 districts in the provinces of Bandundu, Bas-Congo, Eastern Kasaï, Western Kasaï, South Kivu, Equateur and Province Oriental.

The Bandundu results were also published on the website of the IEC (www.cei-rdc.org), with other results to be added today. The president of the IEC, Fr. Malu Malu, confirmed this Saturday August 26 that all the results of the 169 districts would be announced by September 4, the final date for the publication of all the provisional results.

On Saturday, 74% of the legislative results were compiled, it specified, and the local centers of compilation had completed their work for 115 districts, but the IEC must undertake a "consistency check" on these results compiled before authorising their posting.

The unrest which Kinshasa experienced last week delayed the publication of these first results. The Congolese voted on July 30 to decide between the 9,707 legislative candidates and to elect the 500 deputies of the future National Assembly.

These one round elections were combined with the first round of the presidential elections. A complex electoral system was also used for the legislative elections. In more than one third of the 169 districts there is only one seat available per district. The winner will be selected by a simple majority poll, by which the candidate collecting the greatest number of votes is elected.

In all the other districts, a proportional poll of open lists is used: voters can vote for only one candidate of his/her choice, whether independent or a member on a political party list. The seats are then allotted to the lists (or independents) who have obtained the most votes, according to an electoral quotient system.

The votes obtained by each list are divided by this quotient, equal to the number of votes cast divided by the number of seats available. The figure obtained indicates the number of seats which will be allotted to the list.
If there remains seats to be allotted after this calculation (in the case, for example, where no list obtained a figure higher than 1 - that is to say a seat - at the end of this operation), the lists are classified by descending order and the seats - which remain to be allocated - are allotted according to this classification.
The seats obtained by each list are then granted to the candidates who individually obtained the greatest number of votes.

As of today Monday August 28, it is still too early to release a tendency on the elected parties and candidates.