Congo News Agency | Published on April 16, 2011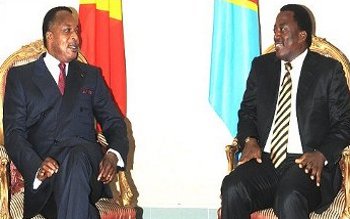 President Denis Sassou Nguesso of the Republic of Congo flew to Kinshasa on Friday to meet with President Joseph Kabila of the Democratic Republic of Congo over security issues that have recently strained relations between the two countries.
A joint statement released after the meeting said that the two leaders discussed "issues of common interest, including security, cooperation and mutual assistance, and the strengthening of long ties" between the two countries.
The Democratic Republic of Congo recalled its ambassador to Brazzaville last month over the refusal by the Republic of Congo to extradite Mr. Ondjani Mangbama and General Faustin Munene, two DR Congo citizens being held after fleeing to the Republic of Congo.
Mr. Ondjani led an insurrection in Equateur province in 2010.
General Faustin Munene was sentenced in absentia to life imprisonment for fomenting a rebellion in Bas-Congo province.
The DRC's government has said that its investigation into an attack on President Kabila's residence in Kinshasa in February has linked the assailants to General Munene.