Radio Okapi | Published on July 29, 2011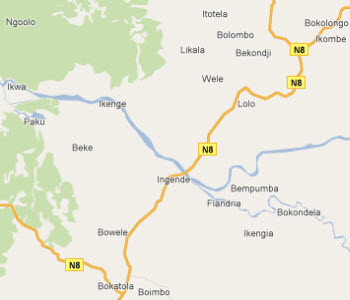 At least 50 people drowned and 35 are missing after two boats collided on the Ruki River in Equateur province, officials said on Friday.
The accident occurred between Tuesday and Wednesday night when a boat carrying 200 passengers and merchandise hit a ferry without passengers near Ingende, about 115 km upstream from Mbandaka.
One hundred and ten passengers were rescued, said Rebecca Ebale, spokesman for the provincial government, citing the Office of Migration (DGM). One survivor said that 10 people died two weeks ago when two other boats collided in similar circumstances near Mobenzene. One of the boats was operated by the same company involved in the latest accident. The survivors have lost everything, he said. "They are threatening to take justice in their own hands if the authorities do nothing", he said. "The provincial government intends to send a fact-finding mission to Ingende to assess the situation", said Rebecca Ebale. President Joseph Kabila
sacked
Transport Minister Laure-Marie Kawanda in May after two boat accidents left dozens killed and others missing in a span of a little over a week. Since then, no replacement has been named for Mme Kawanda. The Minister of Mines, Martin Kabwelulu, has been overseeing the Ministry of Transportation in interim.

On the web: Congo News Agency | From Radio Okapi article