IEC: 18.2 % of the results have already been collected

By Monuc | Published on November 4, 2006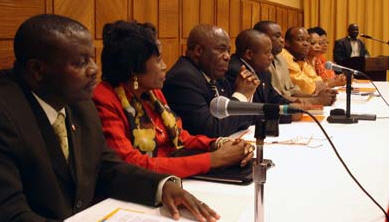 The collecting of the ballot papers started in all the 62 compilation centers in the country, declared Independent Electoral Commission (IEC) president Apollinaire Malu Malu during a press conference held on 2 November 2006, in the presence of the president of the High Authority of the Media.

The IEC has already collected the results of 9,084 polling stations, i.e. 18.2 percent of the total rate, Mr. Malu Malu stated. "We are always confronted with infrastructure problems; the collection of the ballot papers is not finished in the entire country", he added.


It is strictly prohibited to carry out any extrapolation of the results displayed in the CLCR


With reference to the incident occurred in Bumba, in the Equateur province, the voting and counting operations were completed in the 32 polling stations that reopened on 31 October 2006, confirmed the IEC.

As to the voting stations in Fataki, in the Oriental Province, the IEC indicated that the voting operations are finished and they are in the process of counting.

The IEC called the Congolese to be patient while waiting for the turnout of the polls. ?This is part of the results. We are not going to invent anything before knowing the actual results. Speculation doesn't make any sense in this regard,? specified the president of the IEC.

Mr. Malu Malu also recalled the meeting with the delegations of the two presidential candidates that took place in November 2006, in order to discuss the procedures concerning the processing and the announcement of the results as well as the role of the media. The President of the High Authority of the Media (HAM) and the Deputy Special Representative of the Secretary General in the RDC were also present at this meeting.

The delegations of the two candidates signed a joint communiqué agreeing to restrain from announcing the results in any way, even if they were posted in the polling stations and counting stations. ?It is strictly prohibited to carry out any extrapolation of the results displayed in the local centers of the results compilation (CLCR) and to proclaim the victory of one of the candidates before the official publication of the provisional results by the IEC,? mentioned the joint communiqué.

"The press has to respect that and not to do the opposite. And those who will do the opposite are going to get the HAM in their way", insisted HAM president Modeste Mutinga.

Through ?a small incident that can be regulated one can intoxicate the people and cause serious problems? said the IEC and affirmed that ?those who want to solve electoral disputes by violence, intimidation and manipulation, don?t live up to the dignity that the Congolese people proved in front of the world. The Congolese people voted in dignity, and they would like that all is established in dignity.?