VOA News | Published on November 09, 2006
Comiteau report - Download 359K


Listen to Comiteau report

Judges at the International Criminal Court in The Hague began hearing evidence for the first time, as prosecutors began laying out their case against a Congolese militia leader. Thomas Lubanga is accused of recruiting children to fight a brutal war in the northeast of the country. For VOA, Lauren Comiteau is following the confirmation proceedings and has more from Amsterdam.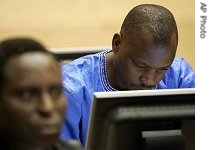 Thomas Lubanga, right, at start of hearing at International Criminal Court in The Hague,  Nov. 9, 2006

Dressed in bright blue traditional African clothing, Thomas Lubanga listened intently as deputy prosecutor at the International Criminal Court, Fatou Bensouda, told judges that the practice of using children in warfare is one of the most brutal and morally troubling crimes against one of war's most vulnerable groups - children.

"We hope to send a message that those who use children to fight adult wars will face prosecution under the full weight of international law," Bensouda said.

Thomas Lubanga is charged with three counts of war crimes for enlisting and conscripting children under the age of 15 to fight in the Democratic Republic of Congo's northeastern Ituri region between 2002 and 2003.

Human rights groups estimate that more than 60,000 people have been killed during years of inter-ethnic fighting over the region's gold mines and other resources. The purpose of this two-week confirmation hearing is to determine whether there's enough evidence for a full trial of the alleged warlord.

Mr. Lubanga denies all the charges against him. His lawyers, who will also present their side, call this a political trial against a Congolese patriot and pacifist who has few resources to fight the charges.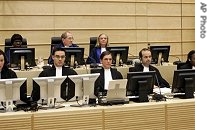 Judges of the International Criminal Court, November 9, 2006
But prosecutors paint a different picture of their first and only suspect in custody: A man who they say was a key actor in using children as bodyguards and training them to kill rival ethnic groups with no distinction between civilians and soldiers.
"Thomas Lubanga Dyilo made the children get military training, said senior trial attorney Ekkehard Withopf. "TLD made them train to kill. TLD made them kill. And TLD let the children die. He let them die in hostilities. Many, many children."
The NGO Human Rights Watch claims that in one incident in 2002, Thomas Lubanga's Union of Congolese Patriots forcibly rounded-up the entire fifth grade of a school, conscripting some 40 children into military service.
The rights group, while hailing the court's first potential case, says the charges should go further to include murder, torture and rape.
But prosecutors, seeking to avert the lengthy trials that have plagued other international courts, say they've charged Mr. Lubanga with crimes the evidence supports.
Over the coming days, they will call a child victim to testify bolster their case, and legal representatives of the victims will also make presentations - the first time ever that victims will be legally represented at an international tribunal.
Prosecutors are counting on judges to side in their favor over the coming months, making Thomas Lubanga the first person tried before the world's first permanent international criminal court.