Kinshasa stays calm after Saturday's clashes

By Monuc | Published on November 13, 2006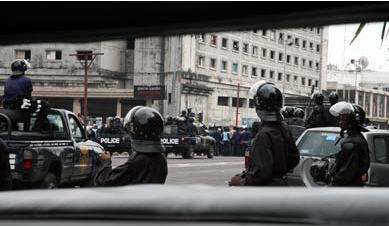 Kinshasa remains calm after the violence that erupted on Saturday November 11th 2006, in the central business district of Gombe, which involved the Congolese police and members of Vice President Bemba's security forces, and left four people dead.

The trouble erupted at 11am close to one of Mr. Bemba's offices on Kinshasa's main Boulevard de 30 Juin, when street children aligned to Jean Pierre Bemba began protesting by burning tyres and blocking the flow of traffic.

The Congolese National Police (PNC) then scattered them by firing into the air. Subsequently, an exchange of light arms fire began between the PNC and the security forces loyal to Jean Pierre Bemba.

The unrest continued for a number of hours, with some mortars fired, but it was limited to a small area and did not spread due to the presence of MONUC armoured personnel carriers and patrols in the vicinity.

General Denis Kalume Numbi, the DRC Minister of the Interior, said on Saturday that the FARDC -the DRC armed forces- would intervene if the violence continued into the evening.
But this was not necessary as intensive negotiations and diplomacy between MONUC, Mr. Bemba and the PNC halted any further spread of the unrest.

UN special Representative for the DRC William Swing, and MONUC force commander General Babacar Gaye, met Mr. Bemba who agreed to billet all his troops for the remainder of the electoral process.

MONUC forces have now taken up positions close to Mr, Bemba's residence as a preventative measure against further violence, in order to safeguard the integrity of the DRC electoral process.

EUFOR also maintained a proactive presence with patrols on the ground and continued air surveillance.

EUFOR spokeperson Lieutenant Colonel Thierry Fusalba said that they were ready to intervene on Saturday if required by MONUC.

"We were prepared and had all our resources ready at our disposal, and our air surveillance was monitoring the situation on the ground."

Contrary to reports, he added that EUFOR did not witness the presence of any members of Kabila's Republican Guard at the scene of the unrest.

This violence comes amid heightened tensions and accusations of irregularities in the electoral process in the last week.

However, the head of the Independent Electoral Commission (IEC), Fr. Apollinaire Malu Malu, stated last week that there were no irregularities in the process.

The IEC is due to announce the provisional second round election results on Sunday next November 19th.