MONUC | Published on March 23, 2007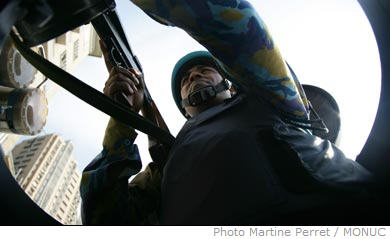 The situation remains tense in Kinshasa this Friday March 23 2007, after heavy fighting between the guards of ex vice president Jean Pierre Bemba and the Congolese Armed Forces (FARDC), which has raged in the capital's central Gombe district since yesterday morning.

As sporadic gunfire continues in isolated pockets, MONUC head Mr. William Swing continues to mediate with both sides for a definitive ceasefire and a peaceful solution to the conflict.

Despite the tense situation, some of Mr. Bemba's guards have already surrendered, with 94 elements giving themselves up to MONUC forces.

MONUC remains preoccupied with securing Gombe district, the scene of the heaviest fighting, and has 25 armoured personnel carriers assisting in the evacuation of MONUC personnel, as well as Congolese and expatriate civilians.

Yesterday, MONUC evacuated an estimated 635 people from potentially dangerous situations, mainly in the Gombe area.

Although no exact figures are yet available on the death toll and number of casualties, estimates suggest there are over 10 dead with many wounded, following 24 hours of fighting.

Among the dead and wounded are members of Mr. Bemba's guards, as well as FARDC soldiers, Congolese Police and civilians.

Government spokesperson Toussaint Tshilombo, in a declaration on Radio Okapi this morming, said that the Kabila government 'deplored the actions of senator Bemba.'

"In conformance with articles 188 (part 2) and article 190 of the constitution, Mr. Bemba has betrayed the Republic. He will be brought before justice, as will all of his accomplices," he said.

The government went on to say that all Mr. Bemba's elements should now surrender themselves at FARDC camps, where they will be given the chance to register and serve the nation.

"All those who do not surrender in the coming hours will be considered as militants and will be subjected to the rigours of the law," Mr. Tshilombo said.