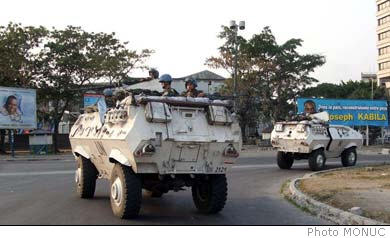 During the weekly MONUC press conference this Wednesday 18 July 2007, MONUC said that they could not make any comment on media reports that MONUC Indian peacekeepers were implicated in the traffic of gold in North Kivu province in eastern DRC, as the official investigation is still underway.
International news agencies and Congolese newspapers have, since last weekend, reported on information alleging that United Nations peacekeepers based in the province of North Kivu in eastern DRC were implicated in the traffic of gold with the FDLR (Forces démocratiques de libération du Rwanda) during 2005 and 2006.
As soon as these serious allegations emerged, MONUC expressly required that an investigation be carried out by the UN Office of Internal Oversight Services (OIOS).
"When the investigation delivers its conclusions, OIOS will communicate its report and recommendations to the UN Department of Peacekeeping Operations (DPKO) in New York, for suitable action by the troop contributing country whose personnel may be implicated, in accordance with the UN procedures currently in force," said MONUC spokesperson Kemal Saiki.
"The policy of the United Nations is not to make any comment on any investigation in progress, the report and recommendations of which will be transmitted officially to the appropriate authorities, in order not to harm the impartiality and regularity of the investigations," he added.
MONUC force commander General Babacar Gaye, who was also present at the press conference, said that 'from my experience, our troops are some of the most disciplined that I have worked with.'
"We have a very strict code of conduct, with severe sanctions which are very dissuasive. Presently there are charges against our blue helmets, and we are taking them very seriously. We are checking these charges, an investigation is underway and if there are culprits they will be punished immediately," he explained.
On Monday 16 July 2007, the Indian Armed forces confirmed that they had not received any report or complaint on allegations concerning the traffic of gold involving their blue helmets in the province of North Kivu.
Parallel to this investigation, two UN departments, that of logistics and DPKO, will dispatch an audit management team to Kinshasa. This team, which will be led by a high ranking UN official, will examine all the levels of the mission in order to draw a complete picture of the recent allegations of indiscipline and embezzlement, against both military and civilian MONUC personnel.
Furthermore, MONUC denounced "the persistent insecurity" in North Kivu and the death threats which MONUC Human Rights Division officers in Uvira were subjected to.
"MONUC condemns firmly and without reserve the physical aggression, expulsion and death threats made against two MONUC Human rights officers in Uvira on 9 July 2007, when they accompanied the Public prosecutor in a joint visit of the holding cells of the DRC National Information Agency (ANR), to control the legal and human rights aspects of detention," explained MONUC spokesperson Kemal Saiki.
MONUC continues to be highly worried by the question of the protection of the civilians in the current context of persistent insecurity in certain zones of the province of the North Kivu.
This is especially so in Rutshuru where, in spite of the reinforced MONUC security support mechanisms for civilians, the local population continue to flee their villages, either because of confrontations between FDLR and the DRC Armed Forces or attacks and lootings of FDLR and other not identified men-at-arms, or out of fear of such confrontations and violence.