Kabila in Goma ahead of Government Ultimatum for Rebels to Disarm

By Congo News Agency | Published on October 14, 2007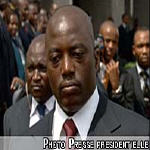 Kabila arrived Sunday in the Nord-Kivu province capital of Goma a day ahead of an ultimatum to rebels loyal to renegade general Laurent Nkunda to disarm or face a new offensive by the Congolese armed forces (FARDC). Kabila arrived in Goma at 9:30 local time accompanied by Minister of Defense, the Army Chief of Staff and the Minister of Humanitarian Affairs.
On Sunday, the UN peacekeeping mission in DR Congo (MONUC) said in a statement urged "all dissident troops to join 'brassage' immediately, for which MONUC, with the government of the Democratic Republic of Congo, have already made the necessary arrangements, including reception sites and transport."
This is the second visit by Kabila to the North-Kivu province in less than a month to deal with security and humanitarian situations created by fighting between the FARDC and Nkunda's men.