MONUC | Published on January 02, 2010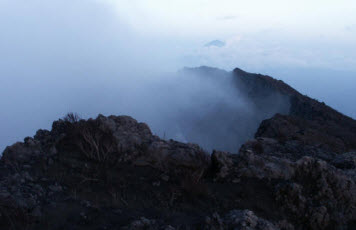 Nyamulagira volcano situated some 40 kms North west of the city of Goma, North Kivu capital, erupted, today, Saturday Januray 2, 2010, around 3 am. The eruption, which was still in progress at 5 pm local time, on January 2, has not, so far, caused any human casualties or damages on human settlements, the lava flowing down from a vertical fissure on the South Eastern slope of the volcano, heading South and South West towards a non populated area of the Virunga National Park.
Since early morning, MONUC has been supporting the local authority and the scientists of the Volcanic Observatory of Goma (OVG) as well as of the National Institute for the Conservation of Nature (ICCN) in their close monitoring of the Volcano activity and lava flow, by putting at their disposal its Indian aviation force and several helicopter flights in order to assess the situation.
Although the full impact of the eruption, which is still in progress, cannot yet be known, the populated areas in its surroundings and the city of Goma appeared safe from any lava flow. MONUC civilian and military components in North Kivu remain on stand by and ready for any further support to the local authority, which has reassured the populations that there is no danger for Goma and its surroundings, and that the other main volcano in the region, the Nyiragongo, situated closer to Goma, would not be affected by the outburst of Nyamuragira.
The National Institute for the Conservation of Nature though stated today that it was concerned about the threat posed by this eruption on the Virunga National Park ecosystems and wildlife, including the possible migration or death of animals living in the park.